Verbeter je sprint met krachttraining!
In blog #3 schreven we over sprint training en welke vormen er zijn, in blog #4 hebben we het sprinten met weerstand uitgediept zodat je hier lekker mee aan de slag kon. Nu Blog #7 alweer waarin we je meenemen in het doen van krachttraining om je sprint en explosiviteit te verbeteren. In veel sporten heb je veel voordeel als je snel kan sprinten/rennen of hoog kan springen, hiermee kan jij voor jezelf en het team het verschil gaan maken!
Welke spieren spelen een belangrijke rol bij het sprint training?
In 2021 werd er een mooi artikel gepresenteerd waarin onderzoek werd gedaan welke spieren en een belangrijke rol speelde bij het accelereren/sprinten(1).  In het onderzoek werd gekeken naar de kuitspieren, spieren van het bovenbeen en de bilspieren. Hieruit blijkt dat deze spieren hierbij een belangrijke rol spelen.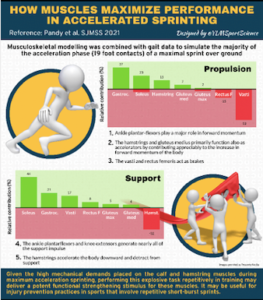 De kuit spieren, hamstrings en bilspieren spelen een belangrijke rol bij de acceleratie tijdens het sprinten, en de spieren van de bovenbenen werken met als remmers tijdens het sprinten.
Hiervoor hebben wij specifieke oefeningen die hierbij kunnen helpen!
How do you best fill in your sprint training?

For your sprint training, here are some exercises that will help with this.
Train your calves:
During the soleus with the aquatrainer from the archer's position, you mainly train the thigh and hip muscles. By using the aqua trainer we also train trunk stability and arm strength.
Attention points for this exercise:
– Maak een grote stap naar voren en zak met achterste knie tot net boven de grond
– Til de hak van je voorste voet zo hoog mogelijk op
– Houdt de rug recht (trek vooral niet hol)
Train your hamstrings:

During the Single leg bridge with chest press explosive with aqua trainer you mainly train the thigh, hip muscles, chest and shoulder. By using the aquatrainer pro we also train trunk stability.
Attention points for this exercise:
– Ga op je rug liggen pak met beide handen de aquatrainer vast en houdt deze op je borst. Doe de pro band short around your knees.
– Til 1 been gestrekt op en houdt je knieën op dezelfde hoogte.
– Til explosief de billen op van de mat en strek tegelijk de aquatrainer naar boven uit.
– Houdt de romp stabiel
– Laat daarna de billen en aquatrainer zakken
Sprinting with resistance:
During the Squat jump sprint + sprint trainer pro you mainly train leg muscles. By using the sprint trainer do you have extra resistance?
Attention points for this exercise:
– Ga staan op 2 benen staan met sprint trainer band om de heupen
– Spring op 1 benen zo hoog mogelijk
– Probeer zo zacht mogelijk te landen door goed door je knie te zakken en op de voorvoeten te blijven
– Sprint na je landing gelijk naar voren zo snel mogelijk weg